Each of the below mentioned solvent / cleaner is specially formulated to give the highest degree of cleanliness after post solder cleaning
1000 SERIES SOLVENT CLEANER
1000 series solvents are carefully controlled blend of highly pure proprietary solvent and chemicals that is very effective in flux residue removal.
1002 SOLVENT CLEANER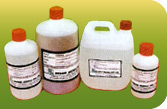 This solvent cleaner is a blend of pure polar and non-polar solvents, designed for quick and efficient removal of rosin residues and other organic contaminants, including ionic traces of activating ingredients sometimes remaining after soldering. It is meant for use in high-volume production to remove flux residues from PCBs by ultrasonic as well as vapour phase cleaning. It is also effective at room temperature for ordinary immersion cleaning. It has excellent stability and is considerably less toxic than most commercial solvent cleaners. It has a large capacity for absorption of rosin. Its rate of evaporation is comparatively low. It can be reclaimed through distillation without undue loss of its original properties.
1003 SOLVENT CLEANER
It is a specially stabilised halogenated hydro-carbon solvent. Low toxicity, non-flammable, non-ionic and non-hygroscopic characteristics are especially valuable in ultrasonic cleaning. Compatibility with polymers especially poly carbonates should be evaluated before application.

1050 BIO CLEANER
It is a bio-degradable aqueous saponifier type flux residue remover. It is formulated as a concentrate for dilution with water. It very efficiently and effectively removes all rosin flux residue and water soluble flux residue. Being alkaline in character it will neutralise organic and acid base fluxes. It does not contain chlorinated solvents or chlorides.
1076 SOLVENT CLEANER
It is a purified, low residue cleaner. It contains a complete and perfected stabiliser system that is able to withstand the stress of heat, oxygen, acidic and alkaline materials, moisture, light and active metal chips, under the most rigorous cold cleaning operations. It is a powerful and fast acting solvent for removing rosin, oil, grease, tar, gum, wax, and certain polymers and resins. It is ideal for cleaning by cold flushing of critical heat sensitive electronic components.
1163 SOLVENT CLEANER
It is an environment friendly solvent designed as a direct replacement for trichloroethane and HCFC. It is non-flammable and can be used in most vapour degreasers and ultrasonic cleaners. Its high solvency, low surface tension and out standing penetration abilities enables it to clean the most tightly packed assemblies. It is a one-stop solvent cleaning system eliminating the need for rinsing and drying stages. It does not corrode carbon steel, stainless steel, copper & aluminium. It is compatible with epoxy resins, Mylar, nylon, PVC, Teflon and HDPE.
| | | | | | | |
| --- | --- | --- | --- | --- | --- | --- |
| | 1000 | 1002 | 1003 | 1050 | 1076 | 1163 |
| | Solvent cleaner | Solvent cleaner | Solvent cleaner | Bio Cleaner | Solvent cleaner | Solvent cleaner |
| | Clear Liquid | Clear Liquid | Liquid | Clear Liquid | Clear Liquid | Clear Liquid |
| | 0.785@25°C | 1.41@25°C | 1.33@25°C | 0.985@25°C | 0.99@25°C | 1.25@25°C |
| | 13°C(T.C.C) | None | None | None | Not Established | None |
| | Water Clear | Water Clear | Water Clear | Light Straw | Water Clear | Water Clear |
| | Alcoholic | Characteristic | Characteristic | Characteristic | None | Sweet |