SOLDER BARS AND ANODES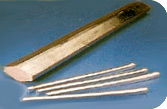 Our solder and tin anodes are processed for high density and fine grain structure, and are the highest quality anodes available to the printed circuit board industry. These solders are designed and engineered to meet Indian, British, German, Japanese and American specifications. A unique processing method used in manufacturing these anodes eliminates oxide and non-metallic inclusions, and provides uniform plating without sludging and flaking.

These solders can be used for general soldering applications as well as for critical microelectronic assemblies. They can be used in all types of automatic soldering machines, dip soldering equipment, tinning baths and all manual soldering processes. The anodes can be used to plate printed circuit board to extend the solderable shelf life and to use as an etch resist. They are also applicable for plating copper wire, bus bar as well as for plating terminals, eyelets and other electronic components. These solders and anodes are processed to assure fine grain structure and even dissolution during soldering or plating.

SOLDER PAINT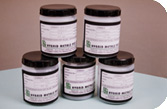 Hybrid # RAD 3400 Solder Paint is formulated for Reflow soldering of Radiators, Heat exchangers, Sheet Metal Soldering and automobile body patching applications.

Hybrid Solder Paint is a well-homogenised suspensions of solder particles in an active flux system. The solder used in manufacturing Hybrid Solder Paint is pre-alloyed before atomization to assure accurate melt ranges and qualify reliable wetting to the base metal surfaces. Hybrid Solder Paint offer dependability and economy. It can be used efficiently for mass soldering of radiators and heat exchangers.

Hybrid Solder Paint is normally applied by brush. Solder Paint can be melted and re flowed with any heat source. Soldering time and temperature are dependent on alloy composition and type of flux. Hybrid Solder Paint is available in a proprietary alloy composition suitable for these applications.

SOLDER WIRE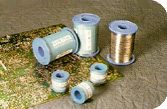 We manufacture solders in wire form, solid, single core and multi-core (up to five core) from 8mm to 26SWG in standard compositions. Cored solder wires are produced with various core percentages. They are available with non activated (R), mildly activated (RMA), fully activated (RA) and water soluble flux core. We also supply wires with acid core, urea core or any other type of flux core according to customer requirements. Advanced no-clean core wire up to 0.5mm diameter is also available upon request. The solder alloy composition, wire diameter, flux quality and percentage of flux in the wire is monitored and controlled to provide consistent results. Our solder wires are suitable for hand soldering of electronic assemblies. The very low impurity levels assure strong and clean solder joints of high reliability.
RMA RESIN FLUX CORE SOLDER WIRE

RMA type resin-core solder wire has been developed for use in electronics industry and meets the chemical and metallurgical requirements specified in various industry and international standards. Our RMA type resin flux used in manufacturing RMA flux cored solder wire is an extremely effective flux which provide very high reliability solder joint. The residue left after soldering is non-corrosive, moisture and fungus resistant and is considered to be non-conductive. The residue after soldering need not to be removed in most cases. This is a high reliability flux core solder wire and is suggested to be used in military, telecommunication, computer, aeronautics and other critical applications.

RA RESIN FLUX CORE SOLDER WIRE
RA type resin cored solder wire is available in all type of solder alloys, different sizes and varying core percentages. It is used for soldering any kind of electronic assemblies. It provides instant wetting and excellent capillary action which results in less rejections and few touch-ups. This type of wire is suitable for soldering oxidized and difficult to solder metals. The flux residue left after soldering is considered to be non-conductive non-hygroscopic and non-tacky, and can be removed by, solvent cleaning process.
WATER SOLUBLE FLUX CORE SOLDER WIRE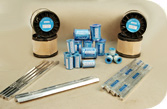 Water soluble core solder wire is an aggressive organic core solder specifically for soldering electronic assemblies, particularly applicable for use where acid core flux is too corrosive and rosin fluxes are too inactive. Water soluble core solder is suitable for soldering heavily oxidized metal surfaces. Water soluble core flux is an active flux and should be removed after hand soldering operation. The residue can be readily and completely removed with water or aqueous detergent cleaner.

NO-CLEAN FLUX CORE SOLDER WIRE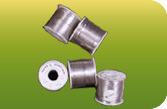 No-clean cored solder wire was developed to eliminate the use of solvents for post-solder cleaning of circuit board assemblies in electronic industry. The No-clean flux used in the wire core is completely halide-free and meets the requirements specified in Bell Core specification and J-STD-004. It provides excellent solderablity and high reliability. The flux residue requires no cleaning due to physico-chemical characteristics of the core flux.

SOLDER PASTE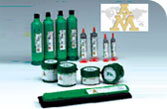 AIM's full line of no clean solder products and water soluble solder products includes solder pastes, liquid fluxes and cored wire solders. These products have been proven to provide excellent soldering results to the end user


AIM's No Clean Solder Pastes and Water Soluble Solder Pastes are available in a variety of alloys, particle sizes, metal contents and viscosities designed to suit all SMT applications. AIM solder pastes are produced from the highest quality, oxide-free powder manufactured to the ElectropureTM Specification. These are each available in a wide selection of packaging, including jars, cartridges, syringes and ProFlow cassettes.


AIM's Water Soluble Solder Pastes at a Glance
• Lead-Free and Tin-Lead Compatible • Excellent Wetting • Superior Slump Resistance • Aqueous Wash with Water • Extended Cleaning Window • Large Process Window • Printing and Dispensing Formulas • Excellent Print Characteristics • Very Good Activity • Extended Stencil Life and Tack Time

AIM's No Clean Solder Pastes at a Glance
• Lead-Free and Tin-Lead Compatible • Halogen- and Halide-Free • Excellent Wetting • No Head-in-Pillow • Low Tombstoning • Clear Pin-Probe Testable Residue • Extended Stencil Life and Tack Time • Eliminates Voiding • Low Solder Beading • Printing and Dispensing Formulas
PRODUCT NO

ALLOY COMPOSITION


COMMON REQUREMENTS

SOLIDUS


LIQUIDUS


Sn

Pb

Ag

Bi

Cu

Zn

BAR

WIRE

PASTE

PAINT

°C

°C

1

5

95

-

-

-

-

-

-

308

312

2

5

93.5

1.5

-

-

-

-

-

287

296

3

10

90

-

-

-

-

-

-

275

302

4

10

88

2

-

-

-

-

267

299

5

15

85

-

-

-

-

-

-

183

288

6

20

80

-

-

-

-

-

-

183

280

7

25

75

-

-

-

-

-

-

183

268

8

30

70

-

-

-

-

-

183

257

9

40

60

-

-

-

-

-

183

238

10

43

43

-

14

-

-

-

144

163

11

49

51

-

-

-

-

-

-

-

183

216

12

50

50

-

-

-

-

-

-

183

212

13

60

40

-

-

-

-

-

-

183

191

14

62

36

2

-

-

-

-

179

179

15

62

38

-

-

-

-

-

-

182.7

183.3

16

63

37

-

-

-

-

183

183

17

65

35

-

-

-

-

-

-

-

183

192

18

70

30

-

-

-

-

-

-

-

183

193

19

75

25

-

-

-

-

-

-

183

194

20

75

-

-

-

-

25

-

-

-

MP 300

21

80

-

-

-

-

20

-

-

-

-

-

MP 280

22

80

20

-

-

-

-

-

-

183

199

23

95

5

-

-

-

-

-

-

-

183

222