7605, 7615 HOT AIR-LEVELLING FLUX
These are specially formulated fluid fluxes for use in hot air solder levelling machine. Flux application could be by dipping or roller coating. These fluxes exhibit exceptionally high temperature stability, thermal conductivity and complete water solubility and also enhance uniform coverage of solder on PCBs. No charred residue is left on processed boards and these fluxes have no adverse effect on PCB material or on solder resists.
342 ROLLER TINNING SALT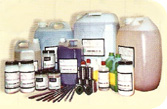 Roller Tinning Salt is a highly active, water soluble, granular, acidic salt, specially formulated for roll tinning applications. The tinning of the PCB is accomplished by the transfer of solder from a metallic roller, that is partially immersed in a bath of solder, with a pressure roller ensuring contact of the circuit surface with tinned metallic roller. Tinning salt is added to the molten solder very slowly. This is a non-spattering formulation which gives a bright solder finish and full coverage in a single pass.
FW 51 ROLLER TINNING FLUX
Roller Tinning Flux is an excellent organic flux, with a unique blend of solvent system with activating agents, which produce excellent solderability and clean bright solder coating. It is a specially designed flux for solder coating on printed circuit boards. The solvent system is designed to evaporate after coating on the board, to avoid spattering during the solder coating process. Flux residue is completely water washable and leaves clean bright solder coated surface. It protects the copper surfaces from re-oxidation during the solder coating temperature and coats solder on the copper surface breaking the thin film of flux present on the board. It can also be used for wire tinning, tinning/soldering or solder coating by conveyorised coating machines.
| | | | | |
| --- | --- | --- | --- | --- |
| PRODUCT NUMBER | 7605 | 7615 | 342 | FW 51 |
| PRODUCT NAME | Hot Air Levelling Flux | Hi-Bright Flux | Roller Tinning Salt | Roller Tinning Flux |
| PHYSICAL STATE | Viscous Liquid | Viscous Liquid | Crystalline Powder | Clear Liquid |
| SPECIFIC GRAVITY | 1.1@25°C | 1.1@25°C | 1.8@25°C | 0.84@25°C |
| FLASH POINT | 300°C | 313C(TCC) | None | 16°C |
| FIRE POINT | 330°C(T.C.C) | | None | |
| BOILING POINT | 100°C | 160°C | 146°C(M.P) | 40°C |
| pH(5% solution) | 1.71 | 3.5 to 5 | 7.0 | 5.5 |
| COLOUR | Straw | Light Amber | White | Blue |