6633 SOLDER CONDITIONER
It is an acid solution. It is a pre-soldering surface cleaner designed to provide an effective means of cleaning oxides on solder plated and hot tinned solder surfaces. It is used to clean and brighten tin/solder plated printed circuit boards and tin/solder coated electronic component leads.
6634 SOLDER CONDITIONER

It is an acidic liquid concentrate designed to remove oxidation and residue from tin/lead plated parts. It is effective in removing both alkaline and sulphuric/peroxide etch residue or as a pre-cleaner prior to infra-red vapour phase of hot oil reflow. It can be used in spray or immersion application.



6108 PROTECTIVE LACQUER
It is phenolic resin based air dying lacquer specially developed for using in electronic assemblies, electrical components and winding. It can also be used for coating of machined surfaces of synthetic resin bonded phenolic laminates, moulding etc. It can be applied by dipping, brushing or spraying both by manual and automatic conveyorised methods. After proper curing it exhibits excellent resistance to mild acids, alkalis, oils, grease and moisture. It provides good electrical property even in humid conditions for a long period.
PSM PEELABLE SOLDER MASK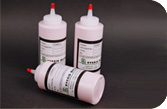 It is a latex based easily peelable temporary mask designed for electronic assembly applications. It is non-flammable, non-toxic, VOC-free and has a moderate odour. It can be applied by brush coating or through squeeze bottle. If necessary, de-ionised water is to be used to reduce its viscosity.






| | | | | |
| --- | --- | --- | --- | --- |
| PRODUCT NUMBER | 6633 | 6634 | 6104 | PSM |
| PRODUCT NAME | Solder Conditioner | Solder Conditioner | Lacquer | Peelable solder mask |
| PHYSICAL STATE | Clear Liquid | Clear Liquid | Liquid | Thixotropic Fluid |
| SOLID CONTENT | 12.9% | 26.2% | 37.8% | 60% |
| SPECIFIC GRAVITY | 1.06@25°C | 1.05@25°C | 0.875@25°C | 1.02@25°C |
| FREE CHLORINE | Present | No free chlorine | NA | NA |
| FLASH POINT | None | None | 20C TCC | None |
| pH(5% solution) | <1.5 | <1 | 5.5 | 10-10.5(pH of 5%) |
| COLOUR | Colourless | Colourless | Brownish Yellow | Pink |